BYU baseball coach Mike Littlewood huddles with his team after a baseball game against San Francisco at Miller Park in Provo, on Thursday, May 9, 2019. (Kristin Murphy, Deseret News)
Estimated read time: 4-5 minutes
PROVO – After nearly a decade as head coach of the BYU baseball team, Mike Littlewood's time has come to a close.
The skipper of the program since July 2012 announced his resignation Monday, citing personal reasons for stepping away from the program, according to a news release from the university. Associated head coach Trent Pratt will assume the role of interim head coach for the remainder of the 2022 season.
Littlewood resigns after leading the Cougars to a 262-208 record since taking over in 2012, including a 132-93 record in West Coast Conference play, three WCC championships and an NCAA Tournament berth in 2017. He guided the Cougars to regular-season titles in 2016, 2017 and 2019, when he was named WCC Coach of the Year, and added BYU's first NCAA Tournament berth since 2002 after winning the WCC Tournament in 2017.
The former Dixie State coach and DSU Hall of Famer spent 16 years in the St. George Dugout, becoming the program's all-time winningest coach with a 605-249 record that bridged the junior college and NCAA Division II era. Littlewood led the Trailblazers to four NJCAA World Series appearances, including the 2004 NJCAA national championship and a runner-up finish in 2001, and sent 29 players to Major League Baseball via the draft.
The Cougars were 17-12 in 2022, including a 6-6 mark in WCC play after the most recent series sweep of Santa Clara at Miller Park. BYU also posted wins over the likes of Arizona State, Ohio State, Washington State and took one of three from then-No. 6 Oklahoma State in a game rescheduled from Provo to Globe Life Park in Arlington, Texas, back in March due to winter conditions in Utah.
As far as local rivalries go, the Cougars took a 10-3 win from Utah at Smith's Ballpark and a 12-5 win from Utah Valley in Orem. BYU hits the road beginning Thursday for a four-game set at Nebraska, and returns home next Tuesday, April 19 to face Utah in Salt Lake City before resuming WCC play against San Diego.
But the Cougars are preparing for a conference upgrade in 2023, a move to the Big 12 that had him excited but also knowledgeable of the step up in play from the WCC to facing teams like TCU, Oklahoma State and others every weekend in the spring.
"It doesn't matter who you are playing, one through 10 or one through 12," Littlewood said last fall when the Cougars announced the transition in 2023. "You are going to be playing a good team with a bunch of future big leaguers It's time to step it up and make a jump up. I'm elated. "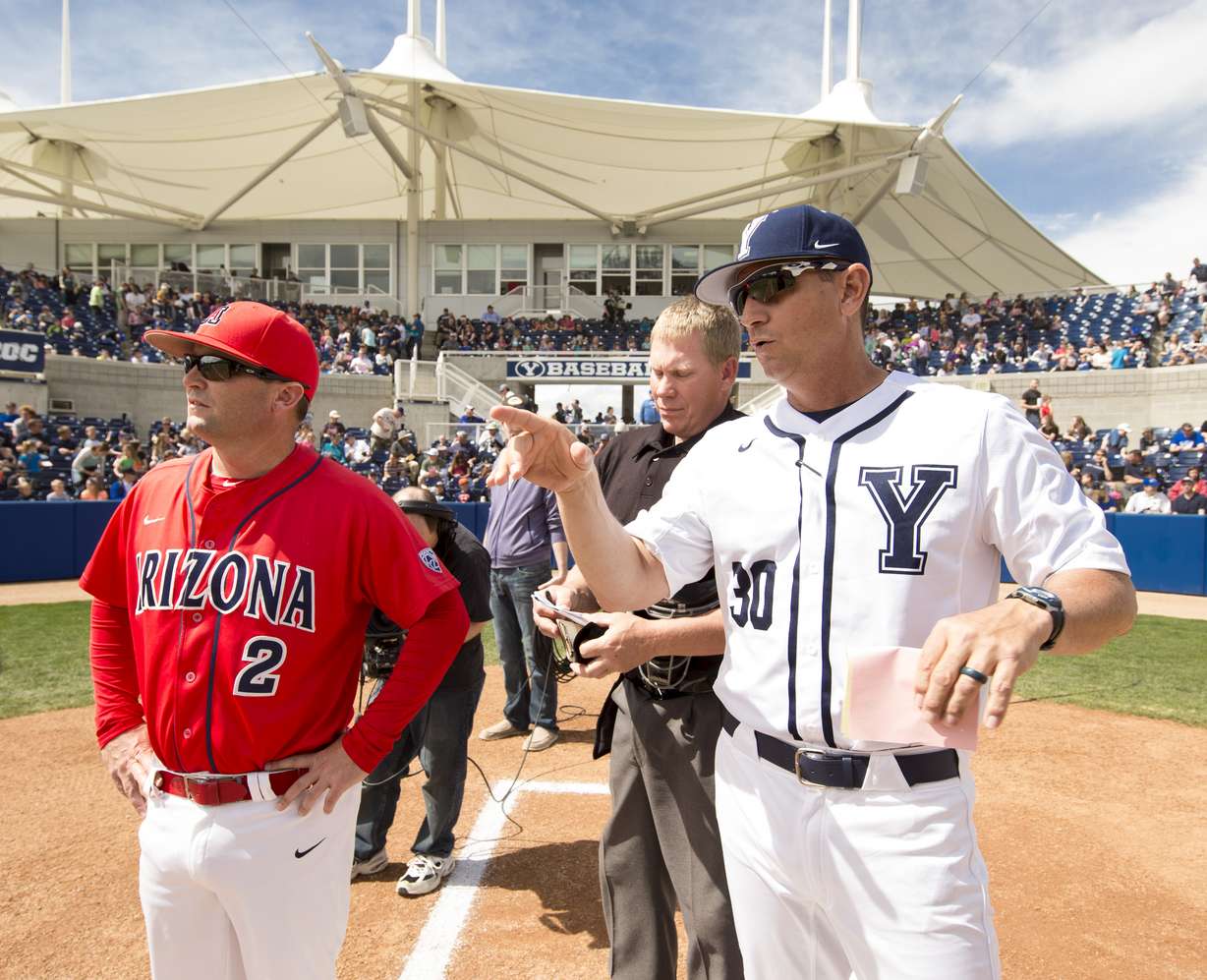 A former rising star as a college basketball official, Littlewood never ran from the challenge of the Big 12, even if his sport was signaled in some circles as perhaps the biggest challenge of the jump to Power Five status. He even said prior to the season that he "would love to take" the 2022 squad in the league after returning sluggers Brock Watkins and Mitch McIntyre and ace pitcher Jack Stern (2.25 ERA) and Bryce Robison (2.48), who is 5-0 on the season, among others.
The athletic department had also recently invested into the program's infrastructure, with renovations at Larry H. Miller Park that included a heated turf, artificial grass in the infield for early spring and winter start dates, and a new state-of-the-art video board over the right-field fence. All of that helped open up recruiting, with some rankings marking the Cougars' most recent class at No. 16 in the country.
"It's going to open up recruiting – not that we're going to try to get totally different type of guy, because the guys we have no can really compete at this level," Littlewood said. "But you do need 6-10 elite guys in the country, and I think having that P5 status opens that up. It's a Big 12 stadium, a Power Five stadium, and people are going to walk in and see this as a legit P5 stage."
Pratt joined the baseball staff as an assistant coach in 2012 and was promoted to associate head coach five years later. The rest of the coaching staff will remain the same, including assistant coach and recruiting coordinator Brent Haring, pitching coach Michael Bradshaw, and director of baseball operations Tuckett Slade.
×
Related Stories
More stories you may be interested in
.