It was with an "Assist Man" cap that Chris Paul appeared at a press conference after the Suns' victory in Game 3 in New Orleans. A rather appropriate clothing accessory, even if the veteran especially marked the spirits with his 19 points (out of 28) in the fourth quarter.
The leader however did not forget to serve his partners, thus finishing the match with 14 assists… for 0 lost ball. In the three games of the series, he is also at 38 assists for 2 stray bullets!
For Monty Williams, the mastery of Chris Paul also manages itself, without the need for strategy.
"They defended by "switching" but before, they defended in a classic way then they started to "trap" him (with two-takes on the pick-and-roll) and he continued to make the right choices" described the coach at a press conference after this precious victory. "I would like to tell you that it was organized as we went along but that's just Chris. With his ability to see the terrain. Obviously he can score but he kept making the good reads. It allowed us to go to the throws because when they started to be more aggressive on him, we found the guy in the center of the field and we could attack from there. »
The coach is thus always impressed by his leader.
"He's just one of those guys who plays the right way, one of those guys who knows how to create for himself and for others. And his leadership qualities, which you don't see during time-outs, are probably as impressive as those he displays on the field. While what he does on the ground already represents so much. »
Speaking of "Assist Man", Chris Paul is currently the 7th best passer in playoff history, with 1,111 "postseason" offerings. At this rate, he should enter the Top 5 fairly quickly in this playoff campaign, overtaking Rajon Rondo (1,136) and Tony Parker (1,143) in passing.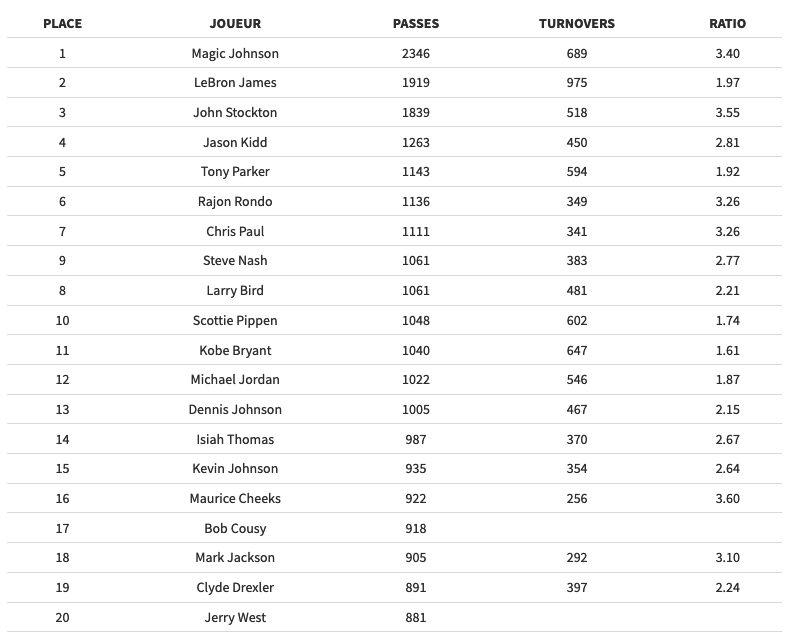 Chris Paul
Percentage
Bounces
Season
Team
GM
Minimum
Shots
3 points
LF
Off
Def
Early
pd
party
Int
bp
CT
Points
2005-06
NOP
78
36
43.0
28.2
84.7
0.8
4.4
5.1
7.8
2.8
2.2
2.4
0.1
16.1
2006-07
NOP
64
37
43.7
35.0
81.8
0.8
3.5
4.4
8.9
2.4
1.8
2.5
0.1
17.3
2007-08
NOP
80
38
48.8
36.9
85.1
0.8
3.2
4.0
11.6
2.3
2.7
2.5
0.1
21.1
2008-09
NOP
78
39
50.3
36.4
86.8
0.9
4.7
5.5
11.0
2.7
2.8
3.0
0.1
22.8
2009-10
NOP
45
38
49.3
40.9
84.7
0.4
3.8
4.2
10.7
2.6
2.1
2.5
0.2
18.7
2010-11
NOP
80
36
46.3
38.8
87.8
0.5
3.6
4.1
9.8
2.5
2.4
2.2
0.1
15.9
2011-12
LAKE
60
36
47.8
37.1
86.1
0.7
2.9
3.6
9.1
2.3
2.5
2.1
0.1
19.8
2012-13
LAKE
70
33
48.1
32.8
88.5
0.8
3.0
3.7
9.7
2.0
2.4
2.3
0.1
16.9
2013-14
LAKE
62
35
46.7
36.8
85.5
0.6
3.7
4.3
10.7
2.5
2.5
2.3
0.1
19.1
2014-15
LAKE
82
35
48.5
39.8
90.0
0.6
4.0
4.6
10.2
2.5
1.9
2.3
0.2
19.1
2015-16
LAKE
74
33
46.2
37.1
89.6
0.5
3.7
4.2
10.0
2.5
2.1
2.6
0.2
19.5
2016-17
LAKE
61
32
47.6
41.1
89.2
0.7
4.3
5.0
9.2
2.4
2.0
2.4
0.1
18.1
2017-18
HOO
58
32
46.0
38.0
91.9
0.6
4.8
5.4
7.9
2.4
1.7
2.2
0.2
18.6
2018-19
HOO
58
32
41.9
35.8
86.2
0.6
4.0
4.6
8.2
2.5
2.0
2.6
0.3
15.6
2019-20
OKAY
70
32
48.9
36.5
90.7
0.4
4.6
5.0
6.7
2.3
1.6
2.3
0.2
17.6
2020-21
PHX
70
31
49.9
39.5
93.4
0.4
4.1
4.5
8.9
2.4
1.4
2.2
0.3
16.4
2021-22
PHX
65
33
49.3
31.7
83.7
0.3
4.0
4.4
10.8
2.1
1.9
2.4
0.3
14.7
Total
1155
35
47.3
36.9
87.1
0.6
3.9
4.5
9.5
2.4
2.1
2.4
0.2
18.1