Deebo Samuel is looking to cash in this offseason. The dynamic third-year wide receiver is entering the final year of his rookie deal and had a breakout season in 2021. It's been a wild NFL offseason, and Samuel has watched several of his peers get paid. $ 140 million over five years for Davante Adams. $ 120 million over four years for Tyreek Hill. $ 104 million over four years for Stefon Diggs.
A lot is being made of Samuel's actions on social media. The receiver has removed his profile photo, which once featured him in his 49ers uniform, from Instagram and every other game-day photo on his account.
While this will be Samuel's first post-rookie-contract deal, Mike Florio of Pro Football Talk explains why Samuel's camp might have more urgency in getting the receiver as much money as possible.
"This is a guy who's a combination receiver and running back, and it makes it even more urgent, in my view, for him to get his financial reward," Florio told Rich Eisen on the Rich Iron Show. "He's got a greater physical risk every time he plays because of the way they now use him."
Samuel racked up 1,770 total yards of offense and 14 touchdowns in 2021. Three hundred and sixty-five yards and eight touchdowns came while rushing the football, with Samuel often lining up as a running back in the backfield. When asked this past season how he would label his position, Samuel declared himself a "wide back" —a combination of a wide receiver and running back.
"And he's going to have a shorter career, quite possibly, if they continue to use him like a running back," Florio continued. "So now's the time for him to take a stand. Now's the time for him to try to get paid, and they're carrying around $ 25 million in cap space for Jimmy Garoppolo as they wait to decide what to do with him.
"If they would just move on from Garoppolo, they would have more than enough cap space to get Deebo Samuel and Nick Bosa taken care of."
While San Francisco only has about $ 1.75 million in salary-cap space, per Over the Cap's latest estimate, a Samuel deal isn't necessarily dependent on clearing Garoppolo's salary immediately. Instead, the team could once again get creative with the salary cap and free up a good amount of money with some contact restructures or extensions. However, getting rid of Garoppolo's cap figure is probably the easiest long-term solution.
"If I were [Samuel], I'm not doing anything, "Florio added." I'm not setting foot on a field anywhere until I get my contract. Now, maybe we'll see him 'hold in,' like TJ Watt did last year — show up, be at meetings, work out, but just not put himself at risk of any kind until he gets paid.
"And obviously it worked for TJ Watt and for the Steelers. He showed no ill effects of not being involved in training camp or the preseason, and he went on to have a Defensive Player of the Year-type effort."
Nobody's perfect. Did you find a mistake in this article?
Report it.
Facebook Comments
More San Francisco 49ers News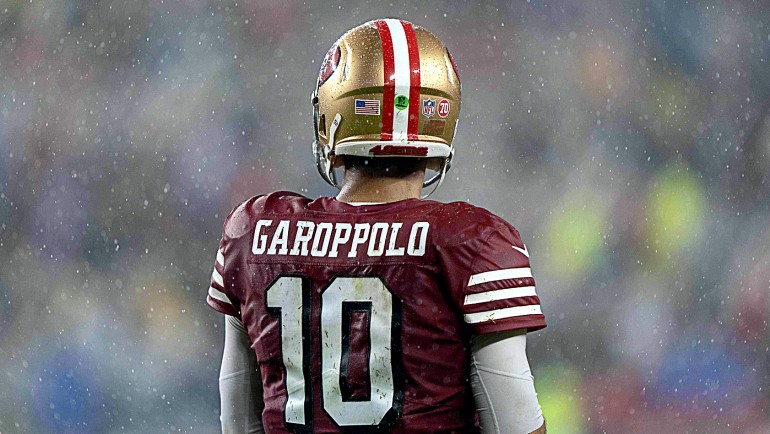 4 reasons why 49ers QB Jimmy Garoppolo needs to move on
I have to confess. I'm tired of hearing and reading about Jimmy Garoppolo. It's not because I don't like the guy. I have always supported him as the quarterback of the San Francisco 49ers. On the day Garoppolo said "goodbye" to fans and media, I posted this: Jimmy Garoppolo is such a classy dude. Ended his presser by thanking the media and # 49ers fans, saying, "I love you guys and I'll miss you." Wow. Such class from a guy who's had plenty of ups and downs in SF. I wish him great success moving forward.
ESPN: Jets keeping an eye on Deebo Samuel situation with 49ers
The New York Jets tried to get their hands on wide receiver Tyreek Hill. Then the Miami Dolphins got involved, and head coach Robert Saleh's squad was left empty-handed. That leaves the Jets focused on potentially adding a receiving threat via the draft. However, Saleh and company are also watching what is happening around the NFL. ESPN's Rich Cimini reports that the Jets are "keeping an eye" on the situations with the Seattle Seahawks, Tennessee Titans, and San Francisco 49ers (h / t Sasha D. Robinson). "A handful of star receivers are entering the final year of their rookie contract, including DK Metcalf, AJ Brown, and Deebo Samuel," wrote Cimini. "The market is blowing up, which might make it harder for their teams to re-sign them." Obviously, the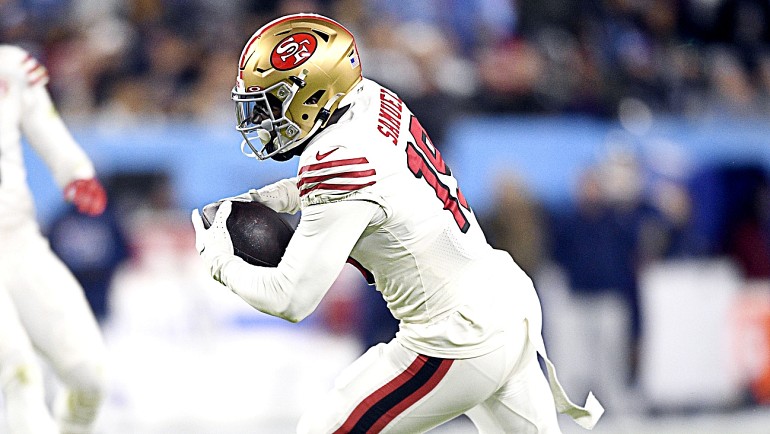 49ers have a plan to ensure Deebo Samuel, Nick Bosa remain for 'a long, long time'
By Rohan Chakravarthi
Mar 28
After a week of rumors revolving around the interest in San Francisco 49ers wide receiver Deebo Samuel this week, general manager John Lynch reiterated his firm intentions that both Samuel and star defensive end Nick Bosa would receive extensions and remain 49ers for the foreseeable future. Speaking at the NFL's annual league meeting, Lynch said there's been "good communication" with both players' camps, continuing that there's "a plan for each of those guys," as he stated earlier in the offseason following the season. "[Bosa and Samuel] are gonna be a part of us for a long, long time, "Lynch said. On
49ers head coach Kyle Shanahan approves idea of ​​Deebo Samuel extension: 'I'd recommend it'
One day after 49ers general manager John Lynch gave assurances his team was intent on working towards a contract extension with wide receiver Deebo Samuel, head coach Kyle Shanahan gave a thumbs-up of his own, saying he'd "recommend" keeping Samuel around for the long term. The price of wide receivers has skyrocketed this offseason, as demonstrated by new contracts given to Christian Kirk (four years, $ 72 million from the Jaguars), Davante Adams (five years, $ 140 million from the Raiders), and Tyreek Hill (four years, $ 120 million from the Dolphins). Even with the guaranteed money in those deals coming in at noticeably lower figures than the overall value, the costs of those players has led to some speculation over how willing the 49ers would be to give a similar amount to
.