With the 2021-22 offseason in the books, it's clear we'll remember it, at least in part, for how the Twins of all teams took the reins and strengthened their roster. They flipped Mitch Garver for Isiah Kiner-Falefa, who then went to the Yankees along with Josh Donaldson in exchange for Gio Urshela and Gary Sánchez. It wasn't much of a downgrade, and the move gave Minnesota the opportunity to sign Carlos Correa, the biggest free agent of the offseason.
And now, here's the cherry on top. In an attempt to address the fragility of their rotation, the Twins had already traded for Sonny Gray. But one good pitcher can't lift an entire staff, so they went ahead and acquired another starter. And as we'll discuss later, there were several other intriguing players involved in the deal. A fairly complex trade on the morning of Opening Day? Don't mind if I do. Here's the basic breakdown:
Father Get
Twins Get
This started off as a discussion about the Twins, but let's actually begin with the Padres' return. Now, the bullpen down in San Diego was never projected to be an issue. If anything, it's one of the league's better ones, as evidenced by an 11th-place spot on this year's positional power rankings. But it did lack a clear ninth inning stalwart after the departure of Mark Melancon, a problem made more obvious by last week's Opening Day fiasco. With Rogers not yet with the team, Craig Stammen allowed a walk-off three-run bomb to Seth Beer (on National Beer Day, no less).
Luckily, Rogers is the man for the job. That's partially because he has a hearty number of saves under his belt, making him no stranger to late-inning situations. But it's also because he's fantastic, to the point where some may not realize how great Rogers has been – or rather, become. In the early days of his career, he spent time as a thoroughly average member of the Twins' relief corps. He wielded a solid sinker but paired it with an inconsistent curveball. From 2016 to '17, Rogers posted a 3.82 FIP across 117 innings.
It all changed in 2018, when he abandoned his curve in favor of a sweeping slider that better complemented his fastball. Since then, Rogers has continued to strike out an increasing rate of batters while trimming his rate of free passes. Since that revelatory year, here's how Rogers compares to other relievers in key metrics:
Taylor Rogers, 2018-21
| Metric | Rogers | Rank |
| --- | --- | --- |
| K-BB% | 26.3% | 7th |
| FIP | 2.52 | 4th |
| xFIP | 2.77 | 5th |
| WAR | 6.1 | 5th |
Among 97 relievers with min. 150 IP
You can see why the Padres are probably elated to have him close; as of this writing, Rogers has already collected two saves. It's rare for a relief pitcher with the trifecta of stuff, command, and track record to be available in trade, but here he is. There's a place for Rogers in a discussion of today's best relievers. He'll immediately bolster San Diego's late-inning capabilities as the team looks to leave last season's collapse behind and make the playoffs.
Meanwhile, Rooker, an outfield prospect who played in 59 games for the Twins last season, might not end up impacting his new team at all. That 2021 stint went poorly, as he showed glimpses of plus power but struggled to make consistent contact en route to a 89 wRC +. There are things to like about his profile, though. For one, Rooker has excelled at every minor league level he's passed through, hitting balls with authority. The .245 / .367 / .594 line he posted in Triple-A last season seems indicative of Rooker's big league ceiling.
In addition, the batted ball data looks promising, and if things went more his way, he very well could have finished last season as an above-average hitter. But reality is harsh: Rooker has little feel for contact, and because he's so one-dimensional, almost all of his future value hinges on whether he can tap into a significant amount of power. There's really no defensive position to hide in; for now, our Depth Charts have him towards the bottom of the left field totem pole. The Padres are mainly glad to have Rogers, but Rooker is a nice lottery ticket.
After this trade, Paddack is now the Twins' problem to solve. One of the more confounding pitchers of late, dozens of articles have dealt with why he isn't better. Usually, they boil down to two reasons. First, Paddack's fastball isn't terribly good. It's only decently speedy by 2022 standards, and what's more damaging is the movement it generates. Last season, Paddack's heater sat in the dead zone of middling vertical and horizontal break when ideally, you should emphasize one direction over the other. Making matters worse, he chose to rely on it over 60% of the time. The fastball just isn't good enough to warrant such usage, and leaning on it has the added effect of deemphasizing Paddack's plus changeup.
Second, his big, loopy curveball has been an insufficient third pitch. To Paddack's credit, he did address this issue by adding velocity without sacrificing movement, which can be a tricky task. And voilá – the whiffs picked up. But as Eno Sarris suggested, so so may have led to the loss in fastball ride. Pitching doesn't occur in a vacuum, and one change can always lead to unintended consequences. There's been one step forward, but also about a step-and-a-half back. This is what has made Paddack such a tantalizing player.
But look, even if he doesn't manage to pull off both tasks at once, the sheriff is hardly a train wreck. That 2021 ERA is ugly, but underneath the hood, his peripherals resembled that of his respectable rookie season. We'd love to see him pick up the whiffs, but Paddack's overall control hasn't wavered, which means he's a good bet to last decently long in starts for the pitching-starved Twins. Can Paddack have his cake and eat it, too? If he can restore the movement on his fastball while maintaining a gain in curveball stuff, definitely.
Pagán is now also the Twins' problem to solve. (I'm sensing a theme here.) As is common with the Rays, Pagán broke out in 2019 for them, taking advantage of an elite fastball by commanding it up in the zone. The Padres traded for him that offseason, but Pagán lost his magic as soon as he arrived in San Diego. We can chalk up his disappointing 2020 season to a small sample and the strangeness of that season. The problem is that the sharp decline in strikeouts (and subsequent increase in hard contact) persisted the following year. What's wrong with Pagan, and can the Twins fix him?
To be honest, I don't have a sure answer for either question. The dearth in whiffs is related to the fastball, but it's lost less than a tick of velocity since Pagán's breakout year. That alone isn't enough to account for the degradation in fastball performance. It's not as if his command has worsened, either – his walk rate has trended upward, but in terms of optimal locations, the fastballs are going where they're supposed to. Through a process of elimination, we're left with the most likely culprit (courtesy of Brooks Baseball):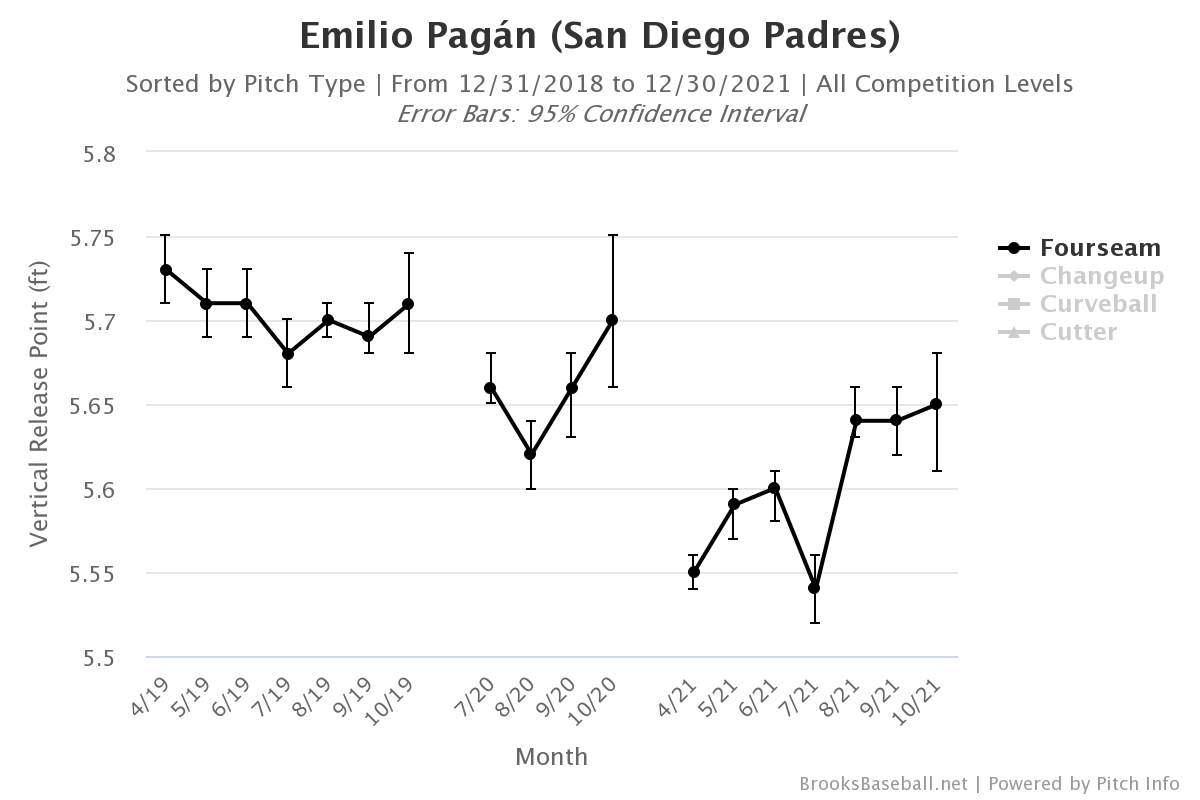 Over the years, Pagán has been throwing from a lower and lower arm slot. Perhaps related to that, he's lost a bit of ride on his fastball. It's not a big difference, mind you – the pitch is still world-class by such a measure – but often, that extra inch or two is what helps miss the bat. Pagán is a two-pitch reliever, leaving him little room for error if one goes awry. If a change in release height is indeed what's causing the fastball to misbehave, that's an easy fix. Of course, there's a chance that none of what's been brought up is a potential answer. But if Pagán can rebound, the Twins might not have much trouble filling a Taylor Rogers-sized hole.
At first, I thought the Twins had themselves a great deal. For the price of one reliever, albeit a stellar one, and a decent prospect, they gained two pitchers with potential to metamorphose into something greater. The issues plaguing Paddack don't seem too complex, and his pristine walk rates give him a solid floor. Likewise, Pagán is a tweak or two away from looking like his former, dominant self, and the Twins' willingness to work with them perhaps speaks volumes about their player development. You don't make this trade without imagining what Paddack and Pagán could become, then mapping out how to make it a reality.
But on second thought, we can appreciate the Padres' course of action. The turning point, at least for me, was a report on the exact amount of money Minnesota had sent their way. Rogers is owed $ 7.3 million this season. By receiving $ 6.6 million, the Padres are essentially paying league minimum to employ a top 10 reliever. Maybe that's suggestive of how much the Twins are enamored with Paddack and Pagán, but as it is, it looks like they're getting the short end of the stick with Rogers.
Beyond that, though, Paddack simply isn't that important to the Padres. Unlike the Twins, rotation depth is a point of strength for them, and they even acquired Sean Manaea from the A's. Even if Paddack had stuck around with the organization that nurtured him, it's likely he would have been presented with limited opportunities. The Padres probably saw the flaws within their young starter, and probably tried to address them, too. But it's been three years now, and Paddack is treading water. Realistically, would an additional year have made the difference? The same could be said about Pagán. Looking at a graph of a pitcher's release point doesn't require rocket science, and yet, there's been little change. Considering the Padres' issues with developing talent, a change of scenery is arguably beneficial for both parties involved.
Those factors, combined with the money, prompts me to give the upper hand to San Diego, but this opinion isn't set in stone. Besides, all things considered, both teams came out of this deal with reasons to smile. The Padres add a finishing touch to their bullpen and acquire a power bat on the down low. The Twins, on the other hand, fortify their rotation in hopes of becoming fringe contenders, gain a reliever with serious upside, and get a shot at a player to be named later. (I barely mentioned it because it's hard to do analysis on an unknown player who won't end up being that noteworthy.) This is a trade that will require time to parse out. But the good news? With the regular season well under way, we won't have to speculate for much longer.