With Jacob deGrom and Max Scherzer fronting their rotation, the Mets were theoretically spoiled for choices when picking an Opening Day starter. Or at least, they would have been if deGrom hadn't been hurt and Scherzer hadn't picked up a few minor injuries of his own during the spring, throwing off his schedule a bit. Of course, New York also traded for Chris Bassitt during the offseason; he was the Oakland A's Opening Day starter in 2021. They've also got a healthy Carlos Carrasco, who might have taken on the role during his Cleveland tenure were it not for Corey Kluber. Thus, it was rather surprising to see Tylor Megill take the mound last Thursday night.
While the start was certainly an honor for Megill, his throwing schedule also lined up most closely with the occasion. "It fit where he was. Not necessarily his pitch count, but his work load and experience factor, "said manager Buck Showalter after picking him. It's a fun bit of trivia for the history books, but after the pre-game pomp and circumstance, Megill's performance met the moment. He dazzled over five innings of work, holding the Nationals scoreless, allowing just three baserunners and striking out six. The biggest revelation of the evening was a fastball that was suddenly sitting 96 mph and that touched 99 mph, no doubt aided by the adrenaline of the first inning. In his second start of the season yesterday, Megill held the Phillies scoreless over 5.1 innings, allowing just three baserunners and striking out five. It's just 10 innings and 144 pitches, but it certainly seems as though Megill's entire arsenal – and not just his heater – has taken a step forward this year.
An eighth round pick in 2018 out of Arizona, Megill peaked at 25th on the 2021 Mets prospect list. His fastball sat in the low-90s in college and in his first taste of pro ball. After the canceled 2020 minor league season, he showed up to spring training last year regularly throwing 94 mph, and that velocity increase stuck when he made his major league debut in late June. Now his fastball is up another tick and a half.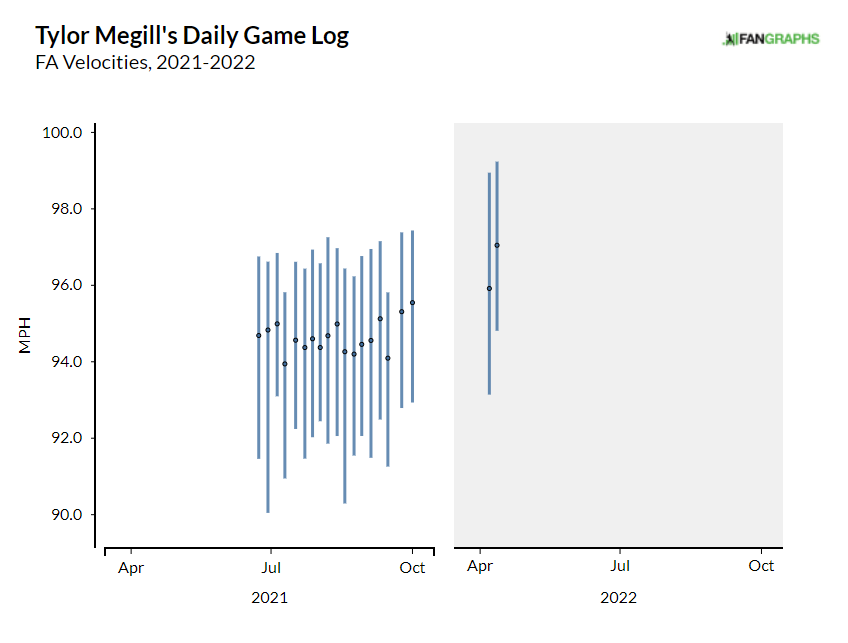 That extra velocity is certainly a good sign because opponents had very little trouble squaring up his heater last year. He allowed a slugging percentage of almost .500 off the pitch and the underlying numbers back up all that loud contact; his .410 expected wOBA on contact sat well above league average for a four-seamer, and his actual wOBA allowed outpaced that mark by 39 points. He tends to locate his fastball up in the zone, and if batters are able to connect with it, it often flies a long way. Over 60% of the balls in play off his four-seamer were fly balls or line drives, and he allowed a .516 expected wOBA on those elevated batted balls.
With a large 6-foot-7 frame, Megill also benefits from a ton of additional effective velocity on his pitches. Just a handful of pitchers had a greater release extension than his 7.3 inches. Releasing the ball that much closer to home plate allowed him to add a perceived 1.6 mph to his heater's velocity. Now that he's hitting 96 mph on the gun, that effective velocity becomes even more crucial to his success. He's thrown 84 fastballs so far this year and exactly a third of them have been either a called strike or been a whiff. His 27.7% whiff rate with the pitch is an increase of over six points relative to last year's 21.5% mark.
His increased fastball velocity got people to turn their heads and notice Megill on Opening Day, but it's the improvements to its secondary offerings that will really help him build on his promising season debut. He throws a changeup, a slider, and an occasional curveball, but it's the first two that really help him stand out. Along with his fastball, his three primary pitches each ran a swinging strike rate in the double digits last year. That gives him plenty of options to attack batters with. Last Thursday night, both of those secondary offerings looked a lot different than they did last year.
Let's start with his slider. Last year, he threw his breaking ball 18.5% of the time and it returned solid results; opposing batters whiffed 31.5% of the time they swung at the pitch, and couldn't do much with it when they managed to put it in play, with just a .222 expected wOBA on contact. With that solid foundation in place, the shape of Megill's slider has been drastically different during his first two starts of the year.
Tylor Megill, Slider Characteristics
| Year | Velocity | Vertical Movement | Horizontal Movement | Spin Rate | Active Spin | Spin Differential |
| --- | --- | --- | --- | --- | --- | --- |
| 2021 | 85.7 | 34.0 | 2.4 | 2126 | 22% | 60 mins |
| 2022 | 86.2 | 38.3 | 4 | 2291 | 24% | 45 mins |
| Difference | 0.5 | 4.3 | 1.6 | 165 | 2% | -15 mins |
Unlike his heater, he hasn't added much velocity to the pitch, but the spin rate is up a bit and as a result, the shape of the slider is significantly improved. He's increased the pitch's vertical movement by nearly five inches and its horizontal movement by more than an inch. Here's what the pitch looked like last year:
And here's how it looked during his first start of the year:
That added spin gives the pitch a lot more bite as it breaks down and away from right-handed batters. Across his two starts this year, he's racked up five strike outs with the pitch, and batters have whiffed a whopping two-thirds of the time against it. Again, we're talking about just 22 sliders with this new shape, so we'll see if those gaudy results hold throughout the season, but the early returns on this new breaking ball are very encouraging.
Megill's preferred secondary pitch last year was his changeup. He threw it just over a fifth of the time and it was nearly as effective as his slider. Batters whiffed 31.9% of the time they offered at the offspeed pitch and managed a .309 expected wOBA on contact against it. Though the shape of the pitch isn't drastically different, it has seen a huge increase in velocity this year.
Tylor Megill, Changeup Characteristics
| Year | Velocity | Vertical Movement | Horizontal Movement | Spin Rate | Active Spin | Spin Differential |
| --- | --- | --- | --- | --- | --- | --- |
| 2021 | 85.4 | 28.9 | 13.2 | 1496 | 98% | 15 mins |
| 2022 | 90.1 | 27.7 | 14.8 | 1534 | 97% | 45 mins |
| Difference | 4.7 | -1.2 | 1.6 | 38 | -1% | 30 mins |
The pitch has lost a bit of vertical movement and gained some run, but the biggest change is to its velocity: its changeup is now sitting just over 90 mph on average, an increase of nearly 5 mph. Here's what it looked like last year:
And here's a changeup from his Opening Day start:
Like his improved slider, his changeup definitely looks like it has a lot more bite to it. The relationship between velocity and spin rate breaks down a bit when talking about changeups because the goal is usually to throw a changeup with less spin to facilitate its deception off the fastball. Megill's new changeup is just a little less spin efficient, particularly considering the huge increase in velocity, but it does have a lot more spin deviation. The added seam-shifted wake effect on the pitch would give it the appearance of having more late break than his older changeup. The results have been just as encouraging as his fastball and slider; opponents have whiffed a third of the time they swing at the changeup this year.
Traditionally, a changeup with a large velocity differential off the pitcher's fastball would be considered the ideal. A few modern pitchers, like Félix Hernández, have thrived using offspeed pitches that have a relatively small velocity differential. With all the changes to Megill's arsenal, the velocity differential between his fastball and his changeup has fallen from over 9 mph to just over six. That's essentially moving from a very good differential to a below average one. But when considered with the rest of his pitches in his arsenal, adding velocity to his changeup gives him three separate pitches in three distinct velocity bands – 95, 89, and 85 mph – which should help him differentiate his two secondary offerings a bit better. There were also reports that Megill was working on a cutter this spring which could give him another option to keep left-handed batters in check.
Megill's revamped repertoire certainly raises its potential ceiling. He now has three standout pitches that can produce excellent results. He's probably relied on his fastball a little too heavily early in his career, especially considering how hard it was hit last year. The added velocity gives it a bit more margin for error but his improved secondary offerings ought to be featured more prominently in his pitch mix. As he gains confidence in his slider and changeup, he'll be able to keep batters off balance with three separate weapons. With deGrom sidelined for at least the first two months of the season, Megill's emergence is an important development for the continued excellence of the Mets starting rotation and the fulfillment of their lofty goals this season.