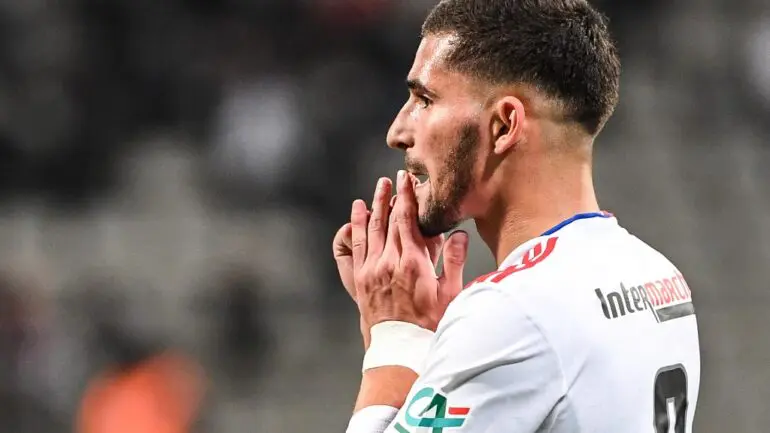 Paris FC – OL (Photo by Bertrand GUAY / AFP)
The match against Angers on Sunday (5:05 p.m.) will be the first in a long series for OL's Muslim players. With the start of Ramadan, what can be the consequences?
Since Saturday, Muslims around the world have been celebrating the holy month of Ramadan. This period of fasting for 30 days is an element that is often overlooked, even taboo when it comes to talking about football. However, on Sunday (5:05 p.m.), against Angers, many OL players will have started this fast. But what is the real impact for these players as the 2021-2022 season enters its final sprint?
Most Islamic theologians agree that footballers can be seen as hard workers or, when competing abroad, as travellers. They can therefore postpone their fasting days after the competition. At OL, the question remains a private matter as the club informed us and no one is able to know if the Muslim players in the squad will decide to break the fast at least on match days. . Despite everything, Ramadan and high-level sport are difficult to reconcile, which is why arrangements can be made inside the clubs. For Kevin Robertiphysical trainer at the rugby club of Saint Priest and founder of Roro Coaching, "in a club, it's a little more complicated to individualize the sessions than in individual coaching. We're going to avoid all that is intense effort because the players have been fasting for a few hours so they already have an increase in fatigue and therefore an increased risk of injury. A player who goes to 30×30 at 3 p.m. is suicidal.
---
"Avoid any intense effort in training"
---
On the purely physical aspect, the month of Ramadan has consequences on the body but is not synonymous with forced rest, quite the contrary. Having individually some OL players in his coaching, "Roro", as his athletes call him, does not hesitate to work on the strength of his clients during this period. Taking place in April this year with less hot temperatures, Ramadan can therefore allow you to put a last push on the time of this final sprint that represents the end of the season.
"When I am with my footballers, I adapt the schedules. This year, I offered them to do our sessions either around 7 a.m. or at 8:30 p.m. The ideal being 8:30 p.m. because the players train in the morning in normal time and they can drink again and have had a snack before the session. I take this opportunity to do a strength cycle, continues the physical trainer. These are very short efforts, less than fifteen seconds at high loads. The arduousness is quite low on this type of session. I will take advantage of this period to do weight training with, for example, a squat exercise with a very heavy load but with very few repetitions, but with a lot of recovery. It will help develop the central nervous system to develop strength."
Not eating or drinking to maintain a high level of performance is difficult to sustain, which is why the physical trainer who worked for OL admits that "some players break the youngster on match day based on how they feel". Because yes, we must not forget that Ramadan remains a holy month for Muslims and must represent the total connection of being with his spirit. In 2018, Nabil Fekir had nevertheless admitted that in the France team, the fast was broken on match days at the World Cup and caught up afterwards. It's not every day that a World Cup final or even a Europa League quarter-final is played out like OL next Thursday at West Ham.
---
Structure your diet
---
There are therefore "remedies" to try to limit the damage, particularly in the diet. The latter seems to be the key to succeed in combining high level practice with good physical condition. Nevertheless, logically, the performance of these players suffers. All parties (clubs, coaches, staff) must therefore be aware of this fact. Vs Angers, Ramadan will only have started one day ago. But by playing at 5:05 p.m., the organism of the players concerned will have already evolved.
"The priority is to review the structuring aspect of meals, not during the day but at night. With such a young audience, they do not necessarily have a good structuring in the rhythm in normal times, note Laurine Verhaeghesports nutritionist in Lyon. There should not be multiple snacks throughout the night but also not a large meal that is too copious and could impact digestion. You have to break the fast first with a little snack and then have a real meal"
Having notably passed through the club of Valenciennes, the nutritionist experienced the difficult cohabitation between Ramadan and high-level sport up close. It was therefore necessary to adapt the sessions collectively but also individually. Because each player does not react the same throughout this month, whether in terms of tastes or desires. "Some are so used to a moment that they don't feel the sensation of eating when breaking the fast. So you have to set up a rhythm to keep in order to avoid injuries."
---
Footballers can take naps
---
With a body that will draw on its reserves, a good diet is therefore essential to continue to perform at a high level. We all have the image of large tables with dishes that we don't know what to do with, but for footballers, this program is not recommended. "Lipid and fat intake will be important for the first meal before sunrise. Foods need to be digested for a long time to last. Starting with a snack is more beneficial."
Whether at dusk or at dawn, eating two meals in one is not a sign of success. Both for the body, which is already disturbed by the period of fasting, and for sleep. In addition to food and dehydration, sleep is certainly the third "problem" that Ramadan can cause for a player. With very short night cycles because of the imperative of food, it is difficult to have a restful sleep. This increases the risk of injury. "The quality of sleep is necessarily degraded. It can impact the quality of our training, with simple gestures such as support, we pay a little less attention when we are tired, less good in technique because we have less concentration in the gesture. It can be the cause of more inflammation, breakdown."
Unlike ordinary Muslim workers, footballers are lucky enough to be able to take many naps between training sessions. A point that Laurine Verhaeghe calls for not to be neglected in order to optimize the performances on the ground as much as possible. Ramadan and football are therefore not incompatible, you just have to prepare for it as well as possible.